The human Papillomavirus (HPV), what is it?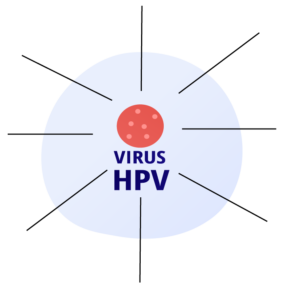 Vaccine effectiveness - cervical cancer protection
Vaccine effectiveness - genital warts protection
1. Institut national du cancer. Papillomavirus et cancer. Institut national du cancer, 2018. Disponible sur : https://www.e-cancer.fr/Expertises-et-publications/Catalogue-des-publications/Papillomavirus-et-cancer
2. Questions-Réponses sur l'infection à papillomavirus humains (HPV), cause de cancer du col de l'utérus, et le dépistage. Haute Autorité de Santé. Disponible sur : https://www.has-
sante.fr/jcms/p_3146343/fr/questions-reponses-sur-l-infection-a-papillomavirus-humains-hpv-cause-de-cancer-du-col-de-l-uterus-et-le-depistage.
3. Riethmuller D, Jacquard A-C, Lacau St Guily J, et al. Potential impact of a nonavalent HPV vaccine on the occurrence of HPV-related diseases in France. BMC Public Health 2015;15:453.
4. Nguyen-Huu N-H, Thilly N, Derrough T, et al. Human papillomavirus vaccination coverage, policies, and practical implementation across Europe. Vaccine 2020;38:1315-31.
5. Arbyn M, Xu L, Simoens C, Martin-Hirsch PP. Prophylactic vaccination against human papillomaviruses to prevent cervical cancer and its precursors. Cochrane Database Syst Rev 2018;5:CD009069.
6. Lei J, Ploner A, Elfström KM, et al. HPV Vaccination and the Risk of Invasive Cervical Cancer. New England Journal of Medicine Massachusetts Medical Society, 2020;383:1340-8.
7. Luostarinen T, Apter D, Dillner J, et al. Vaccination protects against invasive HPV-associated cancers. Int J Cancer 2018;142:2186-7.
8. Recommandation sur l'élargissement de la vaccination contre les papillomavirus aux garçons. Haute Autorité de Santé. Disponible sur : https://www.has-sante.fr/jcms/p_3116022/fr/recommandation-sur-l-elargissement-de-la-vaccination-contre-les-papillomavirus-aux-garcons.
9. Drolet M, Bénard É, Pérez N, Brisson M, HPV Vaccination Impact Study Group. Population-level impact and herd effects following the introduction of human papillomavirus vaccination programmes: updated systematic review and meta-analysis. Lancet 2019;394:497-509.
10. Syndrome de Guillain-Barré. Disponible sur : https://www.who.int/fr/news-room/fact-sheets/detail/guillain-barré-syndrome.
11. Miranda S, Chaignot C, Collin C, Dray-Spira R, Weill A, Zureik M. Human papillomavirus vaccination and risk of autoimmune diseases: A large cohort study of over 2million young girls in France. Vaccine. 2017;35(36):4761-8.
12. Andrews N et al. No increased risk of Guillain-Barré syndrome after human papillomavirus vaccine: a self controlled case series study in England. Vaccine 2017;35(13):1729-32.
13. Deceuninck G, Sauvageau C, Gilca V, et al. Absence of association between Guillain-Barré syndrome hospitalizations and HPV vaccine. Expert Rev Vaccines 2018;17(1):99-102.
14. OMS | Le point sur l'innocuité des vaccins contre le HPV. WHO. World Health Organization,. Disponible sur : http://www.who.int/vaccine_safety/committee/topics/hpv/June_2017/fr/.
15. OMS, Relevé épidémiologique hebdomadaire, n°19, 2017, [Internet]. [cité 07 fev.2020]. https://apps.who.int/iris/bitstream/handle/10665/255353/WER9219.pdf;jsessionid=7C40F686A02B5F49A03D4CE9EA817011?sequence=1)
16. O'Connor, Légaré. The SURE Test. 2008. Disponible sur : https://decisionaid.ohri.ca/docs/develop/Tools/DCS_SURE_Francais.pdf.
17. Fonteneau L, Barret A-S, Lévy-Bruhl D. Évolution de la couverture vaccinale du vaccin contre le papillomavirus en france – 2008-2018 / evolution of human papillomavirus vaccination coverage in france – 2008-2018. avr 2019;7.
18. Willame C, Gadroen K, Bramer W, Weibel D, Sturkenboom M. Systematic Review and Meta-analysis of Postlicensure Observational Studies on Human Papillomavirus Vaccination and Autoimmune and Other Rare Adverse Events: The Pediatric Infectious Disease Journal. avr 2020;39(4):287‑93.
19. Kjaer SK, Dehlendorff C, Belmonte F, Baandrup L. Real-world Effectiveness of Human Papillomavirus Vaccination Against Cervical Cancer. J Natl Cancer Inst. 20 avr 2021;djab080.
20. Falcaro M, Castañon A, Ndlela B, Checchi M, Soldan K, Lopez-Bernal J, et al. The effects of the national HPV vaccination programme in England, UK, on cervical cancer and grade 3 cervical intraepithelial neoplasia incidence: a register-based observational study. The Lancet. 4 déc 2021;398(10316):2084‑92.